Joe Myer Toyota's 2014 Corolla Review and Research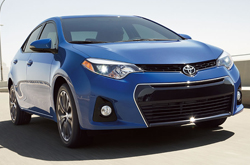 The all-new 2014 Toyota Corolla is a sight to be seen, sporting an all-black, trapezoid-styled bumper fascia, aggressive headlamps, dramatic hood indentations and crisp curves. Previously offered solely in L, LE and S variants, Toyota introduces a new LE Eco trim level to the sedan's lineup for the new year in an effort to increase fuel efficiency. The fresh model features its own specially made four-cylinder engine and receives top-of-the-line EPA ratings, making it the most fuel-efficient trim level in the lineup. On top of this new addition, the Corolla also shows off a refined interior with user-friendly technologies, improving functionality. Continue reading below to discover more about the 2014 Toyota Corolla in Houston, then scroll down for spec info and pictures.
With rising gas prices due to the economy, having a fuel-efficient car is more important than ever. Toyota is well aware of this necessity and has updated the Corolla to fit the needs of buyers on a budget by introducing a new LE Eco trim level to its roster. Outfitted with a specially enhanced 1.8L four-cylinder engine, delivering 140 horsepower and 126 lb.-ft. of torque, the latest model receives outstanding EPA ratings, surpassing all other trim levels. L, LE and S editions don the same 1.8L four-cylinder engine, minus the revisions, and produce 132 horsepower and 128 lb.-ft. of torque. Both L and S trims also come standard with a six-speed manual transmission, while the LE and LE Eco feature a base continuously variable transmission - yielding peak performance.

Thanks to its longer and wider build, the 2014 Toyota Corolla is now more spacious than ever. Backseat legroom has increased by five inches, accommodating both children and adults, and the driver's seat has been modified to better suit tall drivers. Toyota's signature Entune multimedia system, mentioned in many 2014 Toyota Corolla reviews, has also found its way into the new Corolla - available through an easy-to-use touchscreen display fixed within the main instrument panel. Complete with smartphone integration, the advanced program let's drivers access features such as Pandora, iHeartRadio, Bing search, Bluetooth hands-free calling and navigation, a bonus for regular travelers.