If you can't remember the last time you checked your  car's tires, take a look today! There are a few easy ways to tell when they  need attention, such as:
Cuts or cracks in the rubber - typically a sign  of excessive sun exposure; schedule an  appointment at our tire shop in Houston to assess whether the cracks are  cosmetic or hazardous
Bubble in the sidewall - typically due to run  ins with potholes and other severe road obstructions
Low tread - if it's at or under 2/32, you  need new tires ASAP
Noticeably uneven tread - often due to skipping  tire alignments and rotations
Tire Rotation & Balance in Houston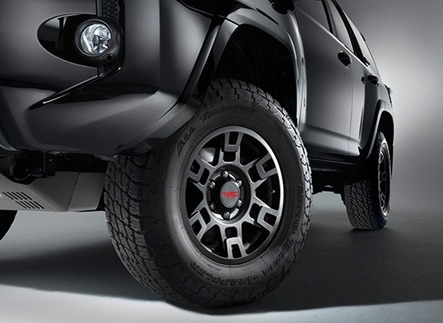 We advise getting rotations roughly every six months and  wheel balancing about every 3,000 to 6,000 miles. Rotations are important  because the weight on your car's front and rear axles is different. If you skip  rotations, the tires in front will likely wear out much faster than the tires  in back because of this weight difference.
Wheel balancing is also an essential service, especially  if you don't want to deal with excessive vibration when driving at high speeds.  Check out Joe Myers Toyota's service coupons to see if we have any deals on this service before your next visit.
Do I Need a Tire Alignment?
In most cases, tires become misaligned slowly over time,  and because drivers compensate for each gradual change, many are not able to  tell when their wheel alignment is out of whack. With this said, there are a  few symptoms you may notice:
My steering wheel looks off center when I'm  driving straight
My car is pulling to the left or right
My tire tread is very low in certain spots  (uneven tread wear)
Any time you buy a new set of Toyota tires, we highly  recommend getting a tire alignment. We also advise having your alignment  checked twice a year.
Tire Repair Shop Near Me
Among tire places in Houston, we think you'll not only be  impressed by our prices, but also by our exceptional customer service and  complimentary perks, including free car washes with each service. Want to learn more about auto maintenance? Visit  our service center page to find details about other important services!