When to Check & Replace Brakes
When to Check & Replace Brakes
Life gets busy, and sometimes that means that car repairs and regular maintenance get put off. However, if you're experiencing any issue with your brakes, whether it be an unusual sound or something else, it is crucial that you get it checked out right away. Forgoing even a simple repair, like a brake pad replacement, can cause further damages and put you at risk for a collision.
Even if you aren't experiencing problems with your brakes, you should ask yourself when the last time you received a brake inspection was. If you've driven 12,000 miles since then, it's best to schedule a service appointment in Houston have them looked at. Our certified service technicians can detect potential issues before they strike, costing you less money with less hassle.
How Can I Tell If My Brakes Need Repair?
There are several warning signs that your brakes are in need of some tender loving care: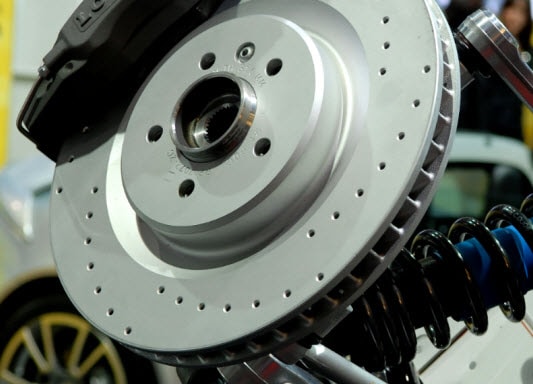 Your brakes make screeching, grinding or other noises
The brake warning light has come on
Braking takes longer distances and the pedal requires more pressure
Your brake pedal feels spongy and touches the floor when applied
Your car shakes when braking
Where Can I Find Brake Repair Near Me?
Our highly rated Toyota service center in Houston is equipped to handle all of your brake service needs. Our friendly mechanics are highly experienced in all aspects of brake repair, including Toyota brake pad replacements, brake fluid flushes, brake line repair, rotor and drum resurfacing and more. If you have any questions about the services we perform, feel free to stop by our Toyota dealership on 19010 Northwest Freeway, or contact us online.
Worried about brake repair costs? At Joe Myers Toyota, we are committed to offering competitive pricing and brake service coupons so that you get the best value possible. Best of all, you'll have the confidence that comes from knowing your brakes are being kept in tip-top shape by some of the best mechanics in the business.
Service Hours
Monday

7:00AM-7:00PM

Tuesday

7:00AM-7:00PM

Wednesday

7:00AM-7:00PM

Thursday

7:00AM-7:00PM

Friday

7:00AM-7:00PM

Saturday

7:00AM-5:00PM

Sunday

Closed