Do I Need a New Car Battery?
Here are signs that your Toyota battery is failing. Click play for details.
Car Batteries Near Me
Looking for a reputable auto shop that offers cheap car batteries in Houston? Joe Myers Toyota has great prices on quality parts, including batteries and battery cables. When you need a new Corolla, 86, RAV4, Tundra, Camry or Toyota Prius battery, we've got you covered! Schedule service today if you're due for a replacement.
How to Maintain My Toyota Battery
There are many easy ways to make sure that your car battery lasts for the long haul.
Keep an eye on it. Taking a quick look at your battery every once in a while will keep you in the know if a problem develops, such as bloating or corrosion development.


Get regular Toyota battery service. During this service our team will add a protectant to your car battery, properly clean off any corrosion and check your battery's remaining capacity, among other aspects.


Avoid idling, running the radio and other accessories when the car is off, and parking out in the sun. These easy tips will help take stress off your car battery.
My Car Battery Looks Swollen or Corroded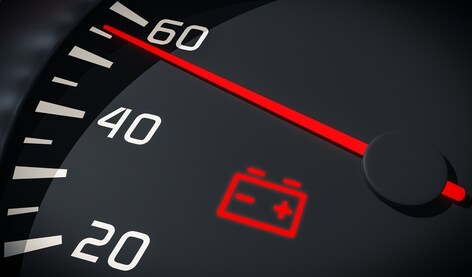 If you see signs of bloating, visit us for a car battery replacement in Houston. Generally, swelling is due to excessive heat exposure or over charging, and it indicates a serious issue that needs immediate attention. Corrosion around the terminals drains batteries faster, which is why it's so important to have it cleaned off. You can do this yourself or have one of our professionals do it during your next Toyota battery service.
Is My Car Battery Dying?
There are a few ways to rule out if it's the alternator or starter that's causing your car not to turn on. If your answer is yes to any of these statements, visit us to find low prices on car batteries in Houston. Check out service coupons before your visit, too.
My car is slow to start; it sounds like my engine is having a hard time turning over. This means your battery is likely dying and needs to be replaced.
Both my engine and lights are not turning on. Sometimes, if the engine isn't turning on but the lights work, it's the starter.
My engine revs but won't start.
My cabin lights appeared dimmer than usual before my car died.
My battery light was on before the car died.
Our auto shop in Jersey Village offers everything you need to keep your car charged up! Need a new Prius or Camry battery? Or maybe help with fixing your battery cables? Get Joe Myers Toyota's certified technicians on the job!
Service Hours
Monday

8:00AM-6:00PM

Tuesday

8:00AM-6:00PM

Wednesday

8:00AM-6:00PM

Thursday

8:00AM-6:00PM

Friday

8:00AM-6:00PM

Saturday

8:00AM-5:00PM

Sunday

Closed