The hot and sticky weather conditions are on the way, now is a great time to have your air conditioning system checked by a professional before it becomes a problem.
A perfect A/C system keeps you in good health. The cabin air filter under the hood of your Toyota filters out harmful bacteria, pollen, dirt, dust, and other foreign materials before the air released through the dashboard vents. Dirty filters can cause headaches and allergic reactions.
Should I seek out professional opinions regarding the functionality of my A/C unit?
The air conditioning system built into your Toyota vehicle requires advance knowledge of the unit. There are many parts that work together to control air flow from the outside of the vehicle to the cabin. Do you have air conditioning parts lying around your house? If not, you would have to order parts, which could take days, or even weeks to arrive at your residence. An A/C technician will have the parts you need on hand to repair the unit the same day.
A/C units have wires that can run 200-250 volts of current. That amount of energy output is enough to kill a human if not handled properly. A manufacturer can void a warranty if an A/C unit is not repaired by a trained professional.
Have you ever experienced "Black Death?" Before you ask, no it is not related to the black plague disease that killed several humans during the 14th century. However, "Black Death" can be lethal. "Black Death" begins in the compressor once refrigerant stops functioning. Refrigerant is put into the engine of a Toyota to prevent unnecessary friction when two moving parts touch. Over time the compressor breaks down, and metal pieces get sent through the rest of the air conditioning system. Soon enough, the cold air is nowhere to be found. To avoid the "Black Death" curse," bring your Toyota to our dealership, and we will test for any flaws in your A/C system.
Why is there weak airflow coming from my dashboard vents?

Mold or mildew could be stuck inside the evaporator core and is blocking the air from reaching the vents.
A hose might not be connected properly.
Strain on the vent fans could prevent free flowing air.
Seals need to remain closed at all times. If a seal is opened, the entire A/C system can malfunction.
Will my car alert me if there is a problem with my A/C?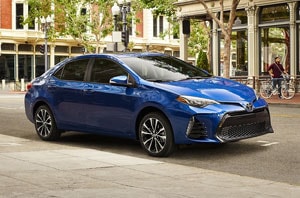 Unfortunately, there is no warning message for A/C problems. It is up to you, the driver, to recognize a problem with your A/C. If you feel as though your A/C is not functioning correctly, bring it on to our dealership so we can diagnose the problem. It is better to be safe than sorry.
I do not feel any cold air coming from my dashboard vents, why might that be?
There are several reasons you don't feel cold air coming from your vents. Sometimes it requires a small fix, and other times a larger repair is needed. Since it is hard for customers to diagnose A/C problems without knowing what to look for, it is better to have your vehicle inspected by a certified technician at our Toyota dealership.