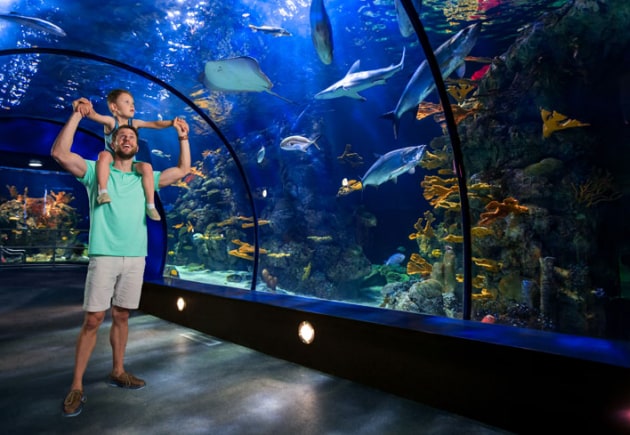 Moody Gardens
One Hope Blvd.
Galveston, TX 77554
Take a trip down to Galveston Island to experience the newly renovated Aquarium Pyramid at Moody Gardens. A stunning display that engages both young and old, Aquarium Pyramid highlights sea creatures from many parts of the world, ranging from the South Atlantic to the Caribbean and beyond.
Visitors can get an up-close look at all types of sea life, from sharks and stingrays to seals. In addition, there's one particular aquatic creature that's prominently put on display: the penguin. These flightless birds are showcased at the new Humboldt Penguin Habitat as well as the South Atlanta Penguin Habitat, which means you get a chance to see various penguin species in different climate and habitat settings.
Additionally, there's a new Pirate Shipwreck at the Caribbean Exhibit, new Flower Garden Banks with a tropical coral reef, and a new Mangrove Lagoon where you can touch Cownose Stingrays and Bonnethead Sharks. There's also a new Gulf of Mexico Rig Exhibit and Jellyfish Gallery.
Locals are invited to head down to Moody Gardens and "journey to new depths" at the Aquarium Pyramid. Find tickets online at the official website along with exhibit hours and other information.